Mozilla's Popcorn Maker is a free online tool that allows you to add your own text, images, social media content, etc. to any existing youtube video. It's a bit like iMovie or Windows Movie Maker for the web. Plenty of others have written about how it can be used in the classroom (see for example here or here).
In this blog post I'm going to just concentrate on explaining how to create a link to external content, specifically quizzes created with learnclick.com.
First watch the example project using a youtube video containing the song "Perfect" by Alanis Morissette. Embedded into the video are 3 quizzes asking questions concerning the lyrics. The links to the quizzes popup in the middle of the song and automatically pause the video.
If you want to see exactly how I did it, you can just click on the remix button 

 of the above project.
To create a link, first click on "Events" and then on "Text".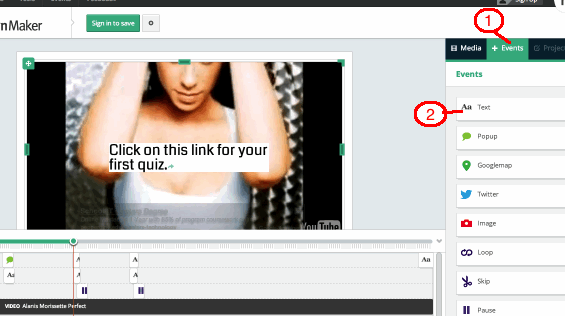 Add a text, like "click on this link", to make it obvious that it's a link and under "Link URL" add the link to the learnclick quiz you previously created. Under the "Advanced" tab you can also add a background color, so that the link stands out more. You will see that it created a new layer with a movable text bar. Move the text containing the link to the place in the video you wish the student to take the quiz. At the same place also add a "Pause" event, so that the video pauses.
That's all! It does take some time fiddling around with Mozilla's Popcorn Maker and it's probably not something you will do often, but why not give it a try?