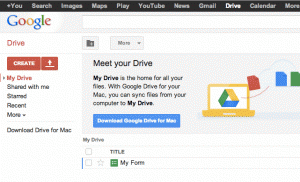 Google Forms is a well-known tool among teachers for creating online quizzes. Of course people like it because it's for free. In order to use it you have to login to https://drive.google.com and then click on "Create" and choose "Form". If you are a frequent user of Google Docs, you might appreciate the fact that it is part of that suite. The main benefit is that the answers are put into a spreadsheet. Although it's a useful service, it is quite limited and also not very intuitive.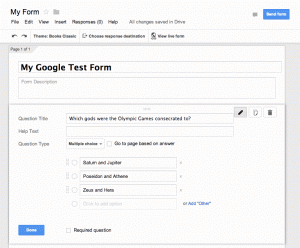 These are some things that are missing:
It doesn't provide the student with any feedback. You cannot use Google Forms to create practice exercises, because it won't show the student the correct answers.

You can't do any formatting of the text.

You can't insert images, embed audio or videos.
Learnclick.com might be a worthwhile investment, if you are looking for an inexpensive alternative (we now also have a free version). Learnclick.com not only allows you to create multiple choice quizzes (including all the above mentioned features Google Forms is missing), but also cloze tests, matching exercises, etc.
Although learnclick.com presents a nice way to display the answers a student provides, you currently can't export them directly to Excel. Actually you could just copy/paste the generated table and it will automatically convert it into the spreadsheet format. Anyways, if this is a feature you miss, you could request it (Update: Somebody requested this feature and you can now export the data as a coma separated file and easily import the statistics into Excel). We listen to our users and answer all support questions. Please write in the comments if Google Forms provides a feature that you miss on learnclick.com.
---
If you would like to occiassionally receive an email with our latest blog articles,
subscribe to our newsletter.
---