Learnclick.com is well known among EFL teachers, because they enjoy the ease with which one can create cloze tests. Michelle's and Tim Julian's pages are just two examples of some really well done English quizzes. Of course you can use learnclick.com with any language. Here is a page with some Spanish cloze tests. As you can see from the below screenshot (a cloze test in Arabic), you can use any script.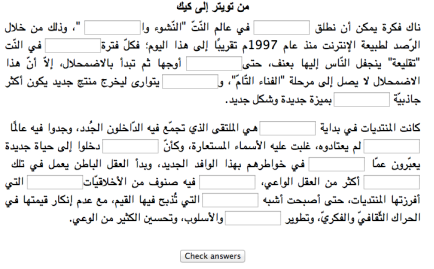 Learnclick.com is also used to create Math quizzes, Social Sciences, Economics, etc.. If use learnclick.com to create exercises for a subject that we haven't mentioned in this post, please leave a comment below.
---
If you would like to occiassionally receive an email with our latest blog articles,
subscribe to our newsletter.
---