With Learnclick you can create cloze tests (where a student has to fill in the blanks) or maze tests where students need to pick the correct word out of two or more distractors.
For cloze tests, you take any text and paste it into the textbox. Then select a word for which you want to create a gap and click on "Create Gap".

For maze tests, you can create dropdowns that contain all the words a student can select from. The "Make Dropdown" button can be found when selecting the "Blank Boxes & Dropdowns" question type (same as above for a cloze test). First you select the correct words with the mouse and the click on "Make Dropdown" where you can fill out 1 – 3 additional items you would like to appear in your list.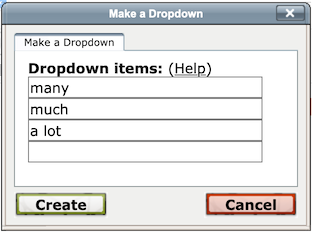 You can also use the question type "Generated Dropdowns" to save time. The help page explains more about how to create cloze deletion tests, e.g. how you can add alternative correct answers, etc: https://www.learnclick.com/cloze/help
Of course, Learnclick also offers other question types. For reading comprehension, check out open-ended questions.
One of the areas where Learnclick stands out is the option for tracking students' progress over time. You can record the answers and then quickly compare the results. If you wish to override the automated grading, can individually set points for each answer. Learn more about it under Statistics & Grades.
Learn more about Learnclick's powerful quiz features by watching some of our screencast videos: https://www.learnclick.com/site/video and test them out by signing up for a free trial.
---
---