Does learnclick.com run on iPads?
Yes, quizzes created with learnclick.com run very well in the browser of the iPad. You don't need to install an app.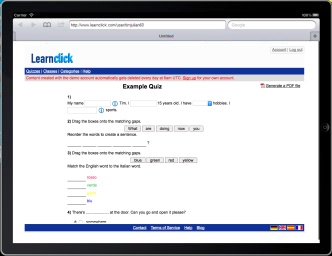 However, for creating the quizzes we advise you to use a computer, since it can be a bit clumsy on a touch screen.
Use a QR Code

You could have the students type in the web address or send it to them by email. Another way to do it is to print or display a QR Code. A QR Code is a two-dimensional barcode that can be read pointing the camera at the code. You can create a QR code here:
http://qrcode.kaywa.com
. To scan the QR code, one needs to install a
QR Code Scanner
app.
More Help