There are many different types of quizzes that can be used for assessment and practice by language teachers.
Cloze Tests / Gap Filling exercises can be used for testing how well a student understands the context. One must however be careful about multiple correct answers (it's possible to set multiple correct answers using the # symbol in Learnclick). Cloze tests can be very effective for testing grammar, vocabulary, reading and listening comprehension.

Matching exercises are a good way for quickly testing vocabulary, for example "match the words with their antonym" or "match the words with their translation".
Drag & Drop questions might be used if you don't want the student to have to type the answers. Another usage is asking the students to put the jumbled words into the correct order to create a sentence. Learn how to create this type of question with Learnclick here: https://www.learnclick.com/help/dragdrop

Dropdown boxes: An alternative to drag & drop questions if you want to give students some options for them to choose from is the "dropdown" question type. You can either have the dropdown content be generated from all the blanks or create the options inside the dropdown yourself.

Open Questions are excellent if you want to test the students writing skills. The disadvantage is that it takes more time for correction, but Learnclick offers a nice online editor for annotating written answers: https://www.learnclick.com/help/essay
Finally, if several options can be correct, then use checkboxes!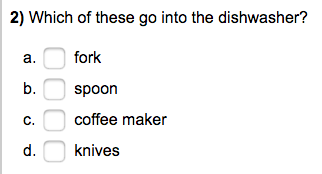 Check out www.learnclick.com – the ideal quiz creator for language teachers.
---
---