Although Learnclick is primarily a tool for creating quizzes, it is possible to create surveys and it has been used for instance for linguistic research. With Learnclick you can create more sophisticated cloze test questions than with other survey tools. It's possible to create drag & drop or dropdown questions. Of course you can also add multiple-choice and open-ended questions. See the bottom of this page to learn more about all the possible question options: https://www.learnclick.com/quiz/help
For a survey, you normally wouldn't enter an answer, but simply make a gap which can be done with any character, e.g. using an underscore.

If you want the respondents to choose from an answer, e.g. in a dropdown or drag & drop type of question, you would enter answer options one can choose from. For "dropdown" questions, you mark the word and click on the button "Make Dropdown" where you enter additional answer options. For "Drag & Drop" questions, you would choose the question type "Drag & Drop": https://www.learnclick.com/help/dragdrop

For surveys you would uncheck the option "Feedback" as there aren't any "incorrect" answers:

If you know who your users are, you can create a "Class" with usernames and passwords so that the respondents can login and it guarantees that they only respond once.
There is also the option to record anonymous answers, although you can ask for the name. Change the option under "Visible To" to "everyone (record answers)". Learn more about "sharing" options here: https://www.learnclick.com/help/sharestudents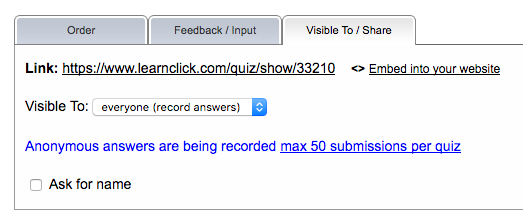 If you need more than 50 submissions, feel free to contact us, we can change the number of possible submissions per quiz for you.
If you check "Ask for name", by default it will ask "What's your name?". But you can override this question with a custom label, by clicking on the link "Global Quiz Settings":


Under "Global Quiz Settings" you can also change a number of other button texts and labels.
Learn more about how you can view the responses here:
https://www.learnclick.com/statistics
It's also possible to export the answers and import them into Excel.
---
---