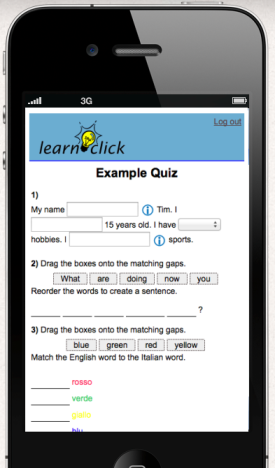 BYOD, bring your own device, is a policy used by an increasing number of schools. Recently more teachers have told us that they would like their students to be able to have their students complete the quizzes they created for them on their mobile devices. So finally we've got round to creating a responsive layout for learnclick.com which means that it now looks good on any screen size. Learnclick can be used for more than just creating quizzes. It can also be used as an assessment tool, which will help you save time with grading. As a teacher you can create classes, manage students and create logins. For actually creating quizzes we still recommend using a computer, although it does work on an iPad. But you will find marking words is easier with a mouse than by touch.
Here are some pros & cons for using mobile phones in the classroom:
+ Students are more comfortable using their own device.
+ A lot of students love using technology.
+ They always have their phones with them.
+ You don't need to buy computers.
– It comes with many distractions (like texting)
– A device can break. You need to make sure you have temporary replacements.
Link: Learnclick.com for creating online quizzes & cloze tests